New Webb proposal met by stiff opposition
City Council filing expected in March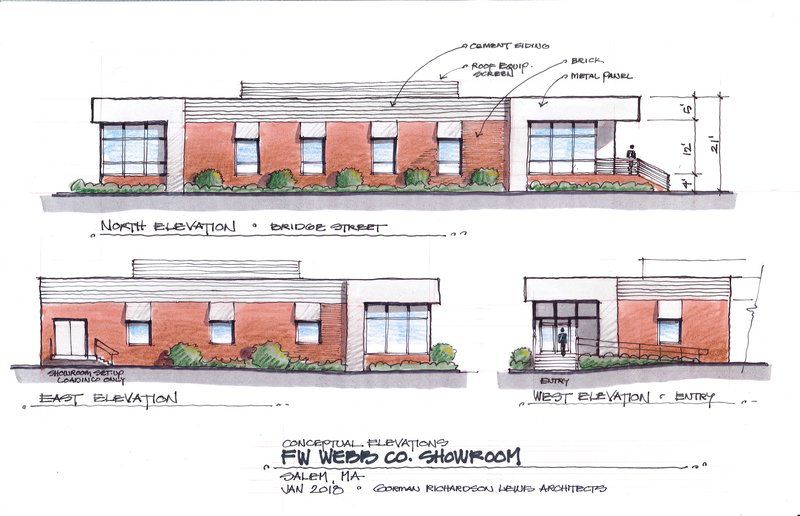 SALEM — Here we go again.
F.W. Webb's proposal to build a showroom on Bridge Street was almost immediately met by condemnation from neighbors Tuesday night, just like the opposition heard during the company's original expansion proposal two years ago.
Webb officials presented the plans for a 6,180-square-foot showroom facility at a neighborhood meeting held at First Church Tuesday night. The proposal targets 311 Bridge St., now occupied by Alpha Auto. More than 60 people turned out to hear the proposal, several of them regulars from deliberations on Webb's proposals back in 2016.
The project would take over a somewhat triangularly shaped parcel next to the Universal Steel property central to the company's past proposal. Those expansion plans on the rest of its property are still stalled in court after initial appeals were filed in November 2016.
Most of the crowd criticized the showroom pitch, while a few comments praised parts of the proposal and only two people spoke totally in favor.
The meeting was organized by Ward 2 City Councilor Christine Madore and it preceded any plans being filed by the company at City Hall. Webb opened the meeting by walking the audience through their vision.
"We think a new building is going to be a vast improvement to the neighborhood," project engineer Andy McBeth said. "It's going to clear things up, get rid of a lot of the outside storage stuff, take a lot of the outdoor storage and bring it inside."
Then, the company outlined the process going forward. The project would require a zoning change for the Alpha Auto site from two-family residential zoning to business-wholesale and automotive.
Review would also be needed from the Planning Board and Conservation Commission, but the zoning change will likely be a major hurdle. The past project went for the change and it proved intensely unpopular for neighbors — prompting the appeals still stuck in the courts today.
Botts Court resident Lou Sirianni was the first to criticize that path, saying the site doesn't have a residential use but was zoned residential so the auto shop "would be replaced by residential, there-in protecting residences from future development."
"What should be there is housing," Sirianni said. "When you bought that lot, were you planning to build residential? Or did you expect that you'd have the money and political muscle to get what you want?"
Sirianni said his question was not rhetorical and requested an answer from the company. Attorney Joe Correnti, representing Webb, verbally declined to respond.
Several times public comment focused on the earlier Webb project, specifically on a more recent decision to not pursue design review. Madore repeatedly attempted to keep the meeting focused on the new proposal, but her efforts were met with scoffs and sarcasm from the audience.
Contamination concerns also came up frequently. The Universal Steel lot next to the Alpha Auto site — now owned by Webb and slated to stay as parking — was a major focus in the earlier project.
Broad Street resident Tim Jenkins called for an early "phase one" study showing positive signs of clean soil — something referenced by McBeth — to be made public.
"We must have the information. It must be made public," Jenkins said. "This neighborhood has already been exposed more than once — at least twice, potentially three times — to contaminants."
Historic Salem president Jennifer Firth focused her criticism of the proposal on its pitch.
"This isn't a beautiful little showroom with a few cars driving up to look at toilets and tubs," Firth said. "It's an industrial site. It's going to have trucks, tractor-trailer trucks going in and out every single day. You're going to see it and feel it."
Others spoke in favor of the proposal. That included Beckford Street resident Rolf Franke-Otten, who complained about the optics of the Alpha Auto site and how redevelopment would give the area a cleaner look.
"I'd like to see something out back," Franke-Otten said. "I can't stand it."
Andover Street resident Alison Troy also praised the project while offering her own complaints — about the complaints.
"I'm getting it from different people who think it's going to be a lot more busy than it really is," she said. "It's a showroom. It isn't going to be tons of people coming in and out. If it were to be residential, there'd be more people parking and more traffic."
It was also praised by Robert Liani, owner of Coffee Time Bake Shop on Bridge Street.
"If housing goes there, it'll add something to the tax base but probably increase costs to the city, kids in the schools," Liani said. "If a business goes there, it will be no cost to the city, adds taxes."
The meeting ended with McBeth saying Webb planned to file plans and request the zoning change from the City Council in March. It's unclear if the City Council would begin the process in March, or if that would launch in April.
Contact Salem reporter Dustin Luca at 978-338-2523 or DLuca@salemnews.com. Follow him on Facebook at facebook.com/dustinluca or on Twitter @DustinLucaSN.
Letter: F.W. Webb is not a local business
To the editor:
I'm responding to your recent report about the second new Webb showroom being proposed on Bridge Street in Salem ("F.W. Webb to file updated plans," Feb. 18). They are multiplying like triffids, aren't they? I just want to clarify that these ever-multiplying "showrooms" aren't pretty little showrooms. They support an industrial distribution center, with products coming in and out of them on tractor trailer trucks – like a small-scale Home Depot, which no one would consider a showroom. We in the neighborhood love our local businesses on Bridge Street, but this is not a local business. This is a corporate giant that has distribution centers from New Jersey to Maine, and is using its considerable political power and influence via the Salem City Council to crush us.
Let me tell you what a local business is. Magarian Carpets is located on Bridge Street at the end of my residential street. It has a showroom and a warehouse, all contained in one reasonably sized building, which has reasonably sized vans entering and exiting. Early one morning, I saw Mr. Magarian standing precariously along the side of Bridge Street in a pile of rubble where there should be a sidewalk, looking way down Bridge Street. It was a freezing 6 degrees. So I pulled my car over and asked my friend what was up. He responded that one of his employees has to walk to work down Bridge Street, so he stands out there every morning to watch for him because it's such a dangerous area. Wow.
Now, I don't know what he's going to be able to do if one of those trucks pulling in and out of Webb wipes out his employee, but his concern is heartwarming. This is what local business is all about. But, this story also illustrates how dangerous Bridge Street currently is, even without changing it to industrial use. So, I couldn't have been more shocked to hear of a second Webb "showroom" being proposed, with more loading docks and more tractor trailer trucks. Can the city really be crazy enough to support this? Mr. Magarian is going to have to hire an armored tank to get his employees safely to work every day.
Jennifer Firth
Salem