City Council OKs carnival for Haunted Happenings
Votes clear way for rides, fine-tune rules for kiddie fest on Common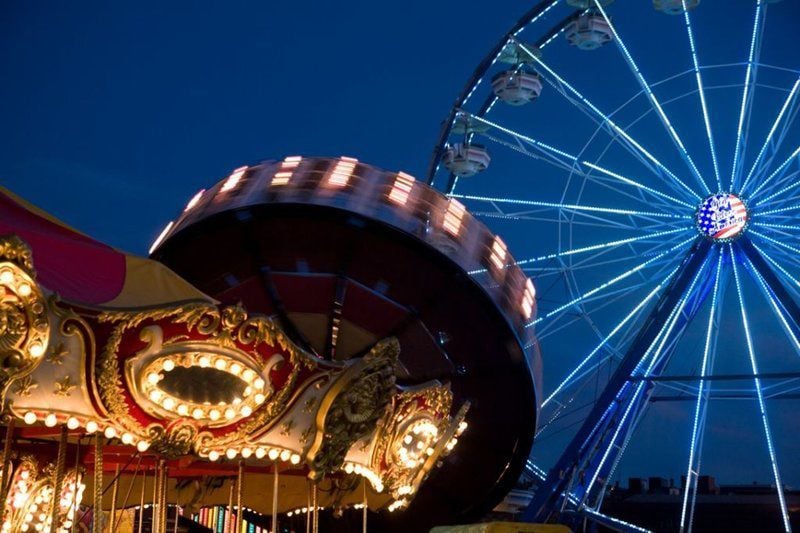 SALEM — Halloween will have a carnival this year, despite fierce neighborhood opposition to a new proposal delivered on the 11th hour.
The City Council approved a carnival at the corner of Federal and Washington streets, which will require the shutdown of part of Federal Street and one lane of Washington Street heading southbound right at the intersection. The passage came in a divisive 6-5 vote.
At the same time, councilors unanimously approved tweaks to a Salem Common ban on carnivals. The change allows the City Council to approve what it legally describes as "a children's fair" held during October, on a case-by-case basis. That approval opens the door for the continuation of a kiddie carnival run by the Salem Common Neighborhood Association for the past five years.
City leaders have struggled with finding a place for the Haunted Happenings carnival after City Hall bought a parking lot on Derby Street used for the event since 2007. Many have viewed the carnival as a critical part of the Haunted Happenings, for its ability to attract families and concentrate crowds of revelers in a well-lit, highly visible area. But officials haven't been able to agree on a suitable site for it.
An initial pitch to put it on Riley Plaza failed, and a second effort to put it on the Salem Common was dropped after opposition from neighbors.
Residents bring fire
A long list of speakers focused mostly on either the Federal at Washington pitch or both of the carnival proposals. None of the speakers were in favor of either proposal. That ran in contrast to the most recent City Council meeting, when several residents expressed frustration about not being able to find a home for the carnival.
Jane Arlander, a Federal Street resident, described herself as a life-long "Salemite" and said most residents "are inconvenienced by living here during October. We're willing to take a little hardship and enjoy showing our city off to the world" during October.
The carnival at the end of Washington Street, meanwhile, is "just unfair," Arlander said.
"The city of Salem should be ashamed of itself," she said. "In the past month or so, the city has tried to put the carnival in three downtown, residential areas — ashamed."
Kathy Turner, who owns Turner Sea Foods with her husband James right outside the Federal Street site, said the carnival at that site would "have a significant and unrecoupable impact on our business in the two most important weeks of the year."
Steve Pelletier, a Washington Street resident, said putting "the carnival basically on a main artery in town is detrimental to the operation of businesses there, who pay a very large amount of taxes."
"You have to have some consideration for those businesses," Pelletier said. "This is their time. Salem in October is make or break (for businesses)."
Jan Stauffer, also a Washington Street resident, said it's "unfair to ask us to put up with the lights, noise, music, generator fumes and congestion for three weeks."
Both carnivals get passage
Councilors first discussed an order from Ward 2 City Councilor Christine Madore to give the City Council the power to approve carnivals on the Common, which was effectively the proposal that was dropped before it could be filed with the City Council. She explained her intention was to give support to the Salem Common Neighborhood Association's event.
Should councilors grant that approval, the Association will be able to add mechanical rides.
Late in the meeting, the councilors debated the Federal Street proposal, which was cut down in size on account of mechanic rides being added to the kiddie carnival at the Common. With that, rides planned for parking next to the old District Court building were removed.
"I'm supporting this for one very simple reason," Ward 5 City Councilor Josh Turiel said. "The chief of police, who I respect greatly, believes this is an important part of the crowd control and crowd management strategy the city uses. I'd rather not put it in this place, but we're out of other places to do it, and I hope next year we have other — and better — options."
Councilor-at-large Elaine Milo highlighted concerns heard from people at Tabernacle Church on effects the church would feel when services and the carnival run concurrently.
"We dropped the ball on this," Milo said, "and should've had the discussion 10 months ago."
Ultimately the City Council voted to support the carnival. Voting in favor if the carnival were Tom Furey, Beth Gerard, Madore, Bob McCarthy, Lisa Peterson and Turiel. Voting opposed were Steve Dibble, Domingo Dominguez, Tim Flynn, Milo and Arthur Sargent.
Contact Salem reporter Dustin Luca at 978-338-2523 or DLuca@salemnews.com. Follow him on Facebook at facebook.com/dustinluca or on Twitter @DustinLucaSN.